---
Office Partitions Essex
Gateway Contracts can supply office partition systems that are quick to install and easy to change? Choose from a flexible range of office partitions, glass walls and demountable partitions, which can be quickly upgraded to suit your changing needs. Our range includes:
Glass walls and glass office partitions for a seamless, modern finish to your office.
Solid partitions and office wall partitions which are fast to install and create privacy.
Demountable partitions for a growing office with an expandingteam.
We undertake contracts ranging from small retail units to large office developments. Our fully trained team will ensure that your project is completed to the highest standards on time and on budget. Please contact us today to discuss your requirements and receive a free no obligation quote.
---
---
---
Drywall partitions
Stud wall partitions are cost effective, multi-purpose partitions which are suitable for all types of buildings including residential, health care and commercial. Seperating walls are an economical way to create different working spaces within the building. A range of stud and plasterboard options are available to meet your performance requirements for acoustics, moisture, impactand fire resistance.
Services can be concealed within the stud cavity and partition walls can be installed to varying heights depending on construction, ie Jumbo stud walls up to 10 metres. Metal stud partitions are ideal for installing at the perimeter of a mezzanine floor to create additional office space. A seamless finish is achieved by either tape and jointing or a plaster skim finish ready to receive decoration.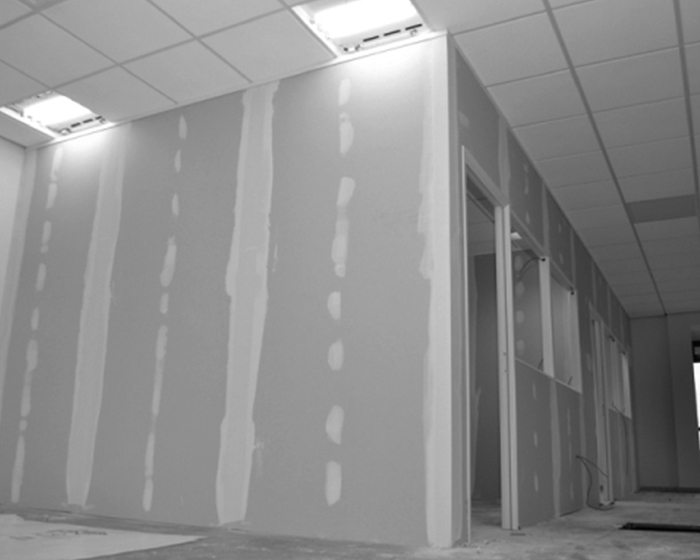 ---
---
Fully Glazed Partitions
Minimal aluminium framework and sheets of glass with dry or silicon vertical joints make a fully glazed partition system an aesthetically essential improvement to any office space that is trying to make a statement.
With up to 38dB sound rating on our single glazed systems and 49dB on our double glazed systems, a fully glazed partition system strikes the right note in any meeting room. Using 10, 12 or 15mm glass depending on the ceiling height, the way our fully glazed systems use minimal aluminium framework gives any room a floating effect. When finished in a range of different manifestations or blinds to suit however private your meeting needs to be, a fully glazed partition system gives a finish like no other to any office space.
---
---
Solid Demountable Partitions
Solid demountable partitions offer a fast and effective way to create your perfect office environment. Whether you are looking for acoustics, fire rating or a simple office divide, using our range of demountable partitions is the perfect way to achieve your goals.
We can offer a range of demountable systems that can be made using either solid plasterboard panels that we can decorate to your choosing, using a combination of solid plasterboard and single or double glazing or using a full height single or double glazing option. Available in a range of aluminium colours, we can use this system to create your perfect office space.